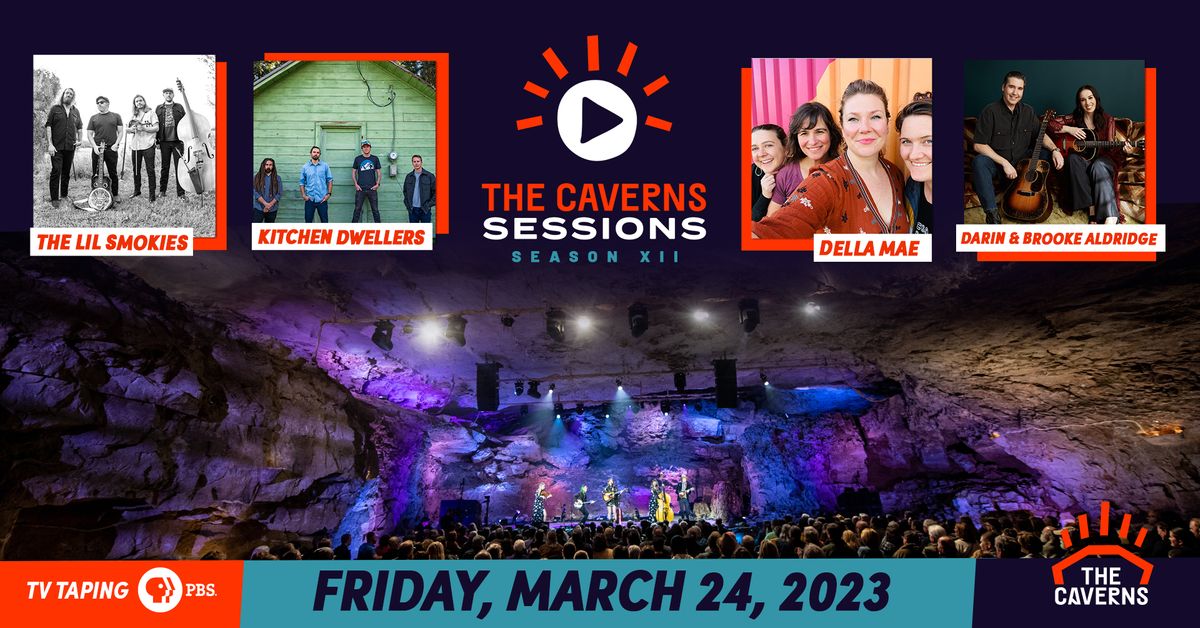 The Caverns
7:00pm
Doors 6pm • Underground Performances • PBS TV Taping
The Lil Smokies / Kitchen Dwellers / Della Mae / Darin & Brooke Aldridge
Doors at 6p CT • Show at 7p CT
Learn more about The Caverns Sessions PBS TV Taping weekend here.
On March 24th, The Caverns will tape performances by The Lil Smokies, Kitchen Dwellers, Della Mae and Darin & Brooke Aldridge for the next season of The Caverns Sessions on PBS, which will be Season XII of the long-running subterranean musical series formerly known as Bluegrass Underground.
ABOUT THE ARTISTS
The Lil Smokies - Blending virtuosic instrumental acrobatics with riveting lyrical craftsmanship, The Lil Smokies have earned a reputation as one of the most electrifying acts in modern American roots music thanks to their exhilarating live show and critically acclaimed studio output.
Kitchen Dwellers - Kitchen Dwellers twist bluegrass, folk, and rock through a kaleidoscope of homegrown stories, rich mythology, American west wanderlust, and psychedelic hues.
Della Mae - Della Mae is a GRAMMY-nominated all-woman string band and have traveled to over 30 countries on a mission to showcase top female musicians, and to improve opportunities for women and girls through advocacy, mentorship, programming, and performance.
Darin & Brooke Aldridge - IBMA award-winning husband-and-wife bluegrass duo, Darin & Brooke Aldridge continue to rise to new heights of the music industry while maintaining their easy-going, down-to-earth connection with audiences everywhere.
TICKETS
Reserved Seating
$75.00, plus tax & fees
Standing Room Only
$55.00,plus tax & fees
Car Camping
$40, plus tax & fees
Car Camping Pass does NOT include admission to the show. You MUST purchase your concert ticket separately. Every member of your group must have concert tickets in order to camp.
The Car Camping Pass is for a single vehicle (up to 4 people) to access The Caverns campground. This pass allows you to enter the campground at 3p CT on the day of the show and camp next to your vehicle. Each campsite is approximately 20' x 20'. There are no electrical or water hookups onsite. Porta Potties are available onsite. Potable water not available, so please bring your own. You must exit the campgrounds by 10a CT on the day after the last show.