About
We believe in the power of music to bring people together. The doors to The Caverns music venue are inscribed with these words in the Sequoyah script of the Cherokee, "Welcome to The Caverns where the Great Spirit brings all people together through music."
About The Caverns
Located in Grundy County, Tennessee, The Caverns is a world-renowned destination for live music in beautiful natural settings above and below ground, home of the PBS television series The Caverns Sessions (formerly Bluegrass Underground), and a magical cave system for different skill levels of exploration.
Inside The Caverns subterranean music venue, guests revel in the prehistoric natural acoustics and otherworldly beauty. Live music inside a cave, it's a bucket list experience that keeps fans coming back to The Caverns time and again for "The Greatest Show Under Earth."
During the day, 7 days a week, guided tours navigate an underground room that's 3 football fields long and end on the stage of the iconic underground music venue. For thrill seekers, challenging adventure cave tours go even deeper underground. We invite you to enjoy and explore the music and adventure of The Caverns!
Inside The Caverns
The Caverns' large, connected underground cave system covers over 8,000 linear feet of known surreal cave passages. Underground shows are hosted in a section of The Caverns historically known to locals and cavers as the Big Mouth Cave because of its impressive, large archway entrance. Experts believe humans have been using the cave to escape the heat, take refuge from rain, and enjoy each other's company for up to 25,000 years.
For cave concerts, The Caverns can accommodate 850 people in padded chair seating or up to 1,200 people for standing-room only shows. What's more, the subterranean concert hall is equipped with state-of-the-art sound and lights, has well-appointed restrooms, and offers delicious food and beverage concessions including craft beer, cider and seltzers. And thanks to the gentle slope of the room and its smooth concrete floor, the venue is accessible to music fans with mobility concerns or physical disabilities.
Daily guided tours include a journey through Big Room Cave, an awe-inspiring underground room which gets its name from its massive size. During the tour, guests learn a little bit about geology, cave lore, and the unique history of Grundy County. Adventure cave tours take guests even deeper inside The Caverns cave system and include the adventurous "Tombstone Pass."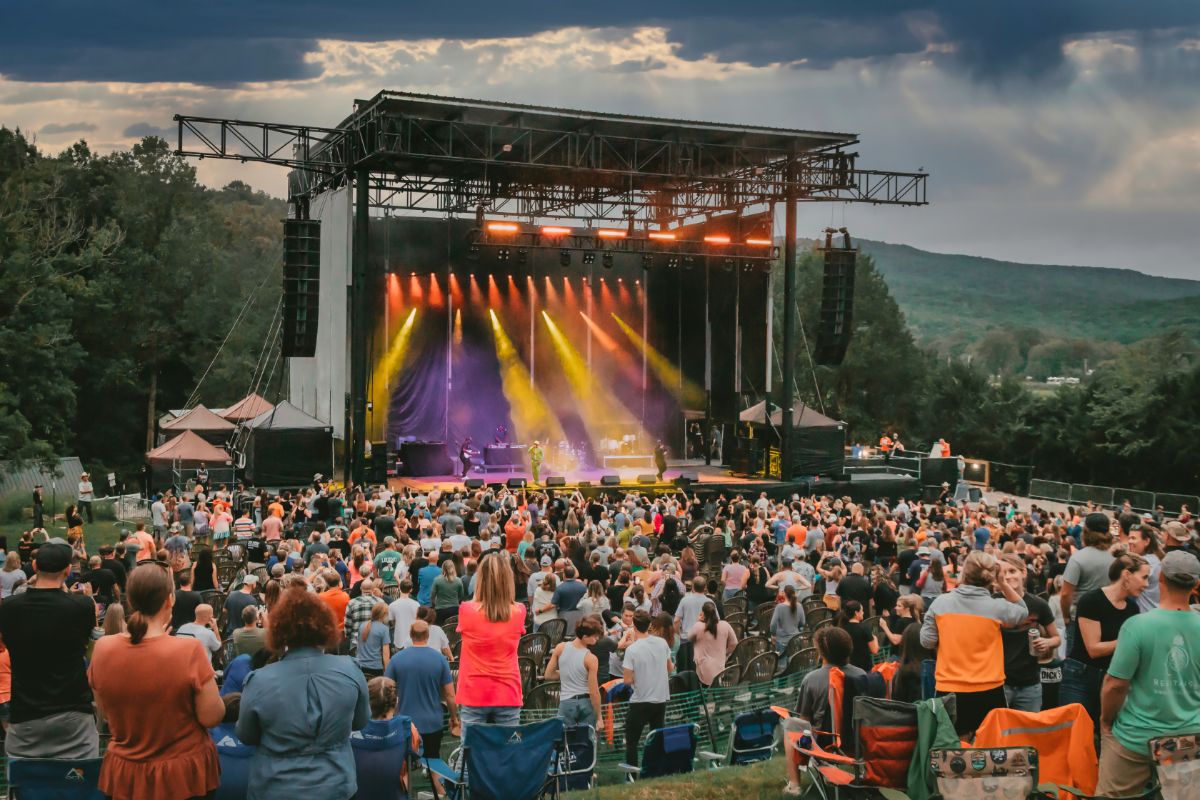 Above Ground
With stunning views of the Cumberland Plateau, The Caverns Amphitheater hosts crowds of up to 6,000 guests per show. The amphitheater has reserved chair seating available close to the stage for almost all shows. Guests in this front section have exclusive access to restrooms and their own bar inside the world famous subterranean cave. At the back of the amphitheater, a new concessions building and restrooms have been added as well as spaces for local food trucks to set up. Pop-up bars in key locations throughout the amphitheater serve guests as well. In the rear sections, guests can bring their own blankets and chairs.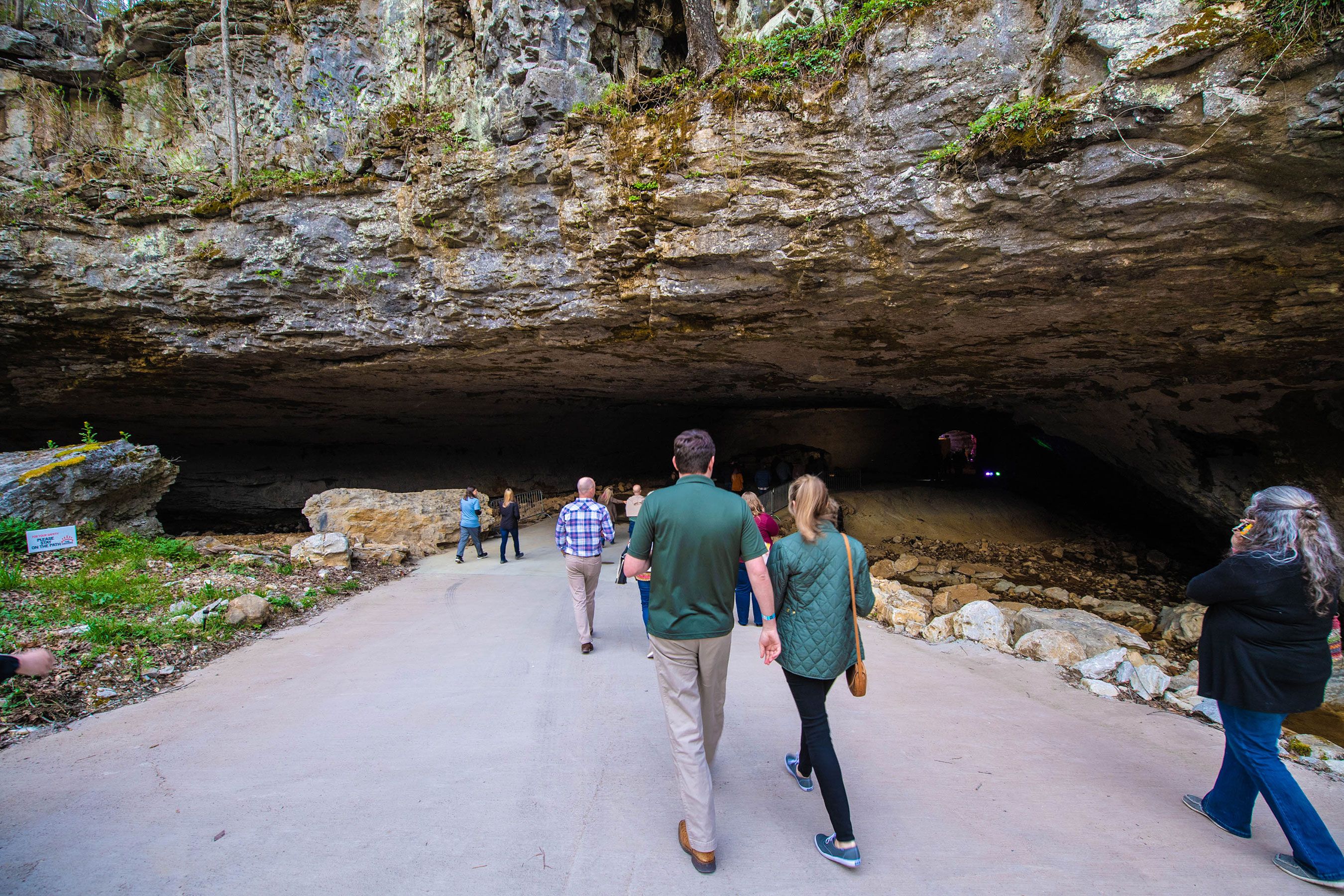 The Location
Down twisting country roads, The Caverns is located at 555 Charlie Roberts Road, Pelham, TN 37366 in a geographical sweet spot approximately 90 minutes from Nashville, TN, 60 minutes from Chattanooga, TN, and less than three hours from Atlanta, GA, Birmingham, AL and Knoxville, TN. Additionally, there's much to explore in the surrounding Southeast Tennessee area, like South Cumberland State Park Tennessee's largest state park, which includes hiking trails, majestic waterfalls, world-class rock climbing, and stunning overlooks. The surrounding communities of Monteagle, Tracy City, and Sewanee offer local dining, shopping, and historic sites surrounded by nature's beauty.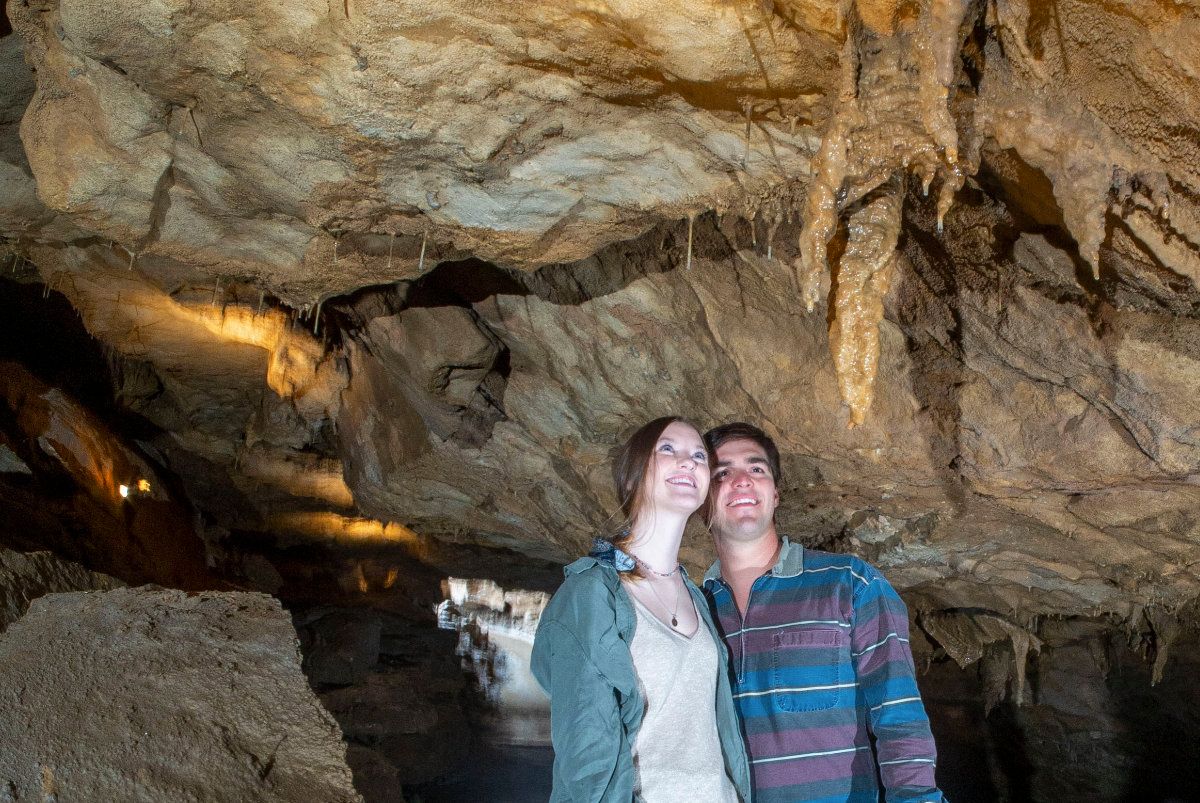 Planning Ahead
The Caverns stays 59 degrees year-round with 91% humidity. The cave feels cool when it's hot outside and warm on cold weather days. Whether you're attending a concert or taking a cave tour, be sure to bring a light jacket and wear comfortable shoes. If you book an Adventure Cave Tour, we provide all the caving gear you'll need. For concert-goers, "Stay-and-Cave" packages are available with lodging and transportation to and from the venue. With shows throughout the year and a wide variety of music programming, you're sure to find a concert on our calendar to inspire your musical adventure. See you underground down in The Caverns!
Thank You To Our Sponsors
"The South's Coolest New Music Venue"
- Garden & Gun
"This is one of the most unique concert experiences that you will ever have. The acoustics and sound were amazing! All of the staff were incredibly friendly and helpful. If you are a live music fan, this is a must do!"
- Google Review
"Tennessee's version of Colorado's stunning Red Rocks Amphitheatre, but smaller – and deep underground."
- Rolling Stone