Cave Tours
Open 7 Days A Week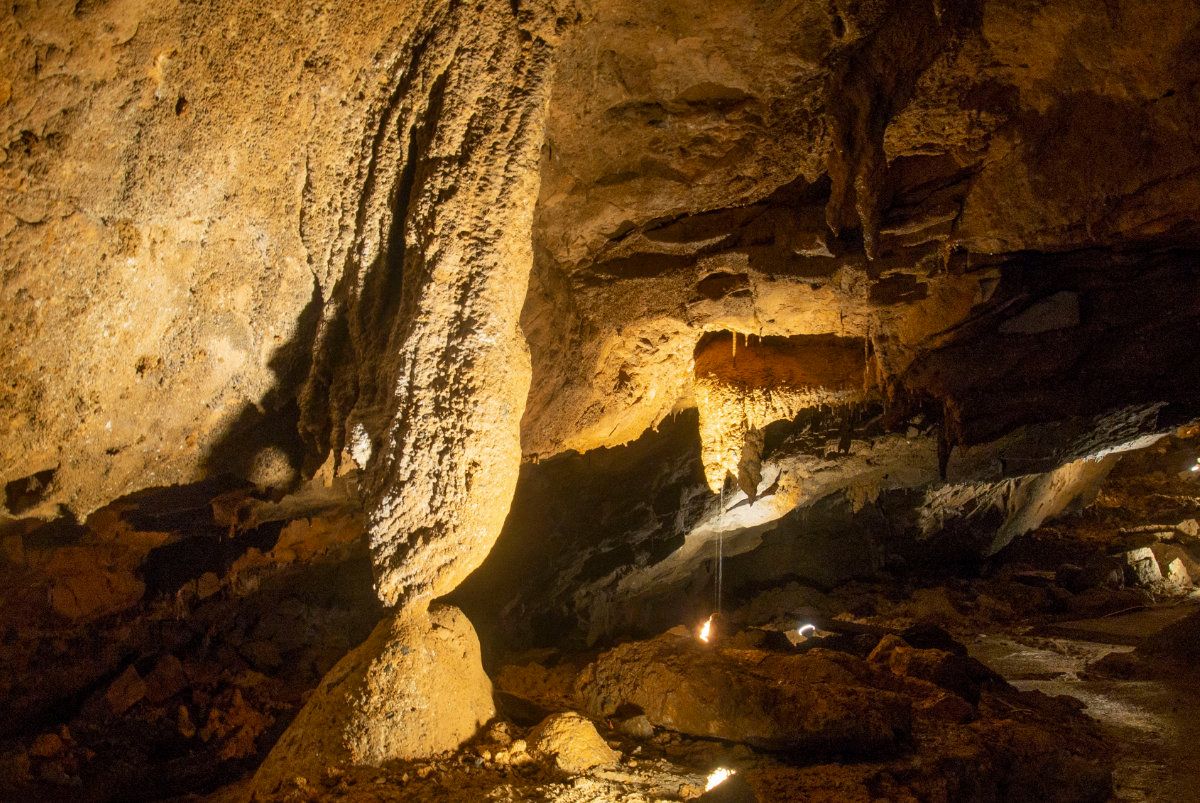 Explore The Caverns!
The Caverns offers daily cave tours that include one of the largest underground rooms in the world at over 3 football fields long and a behind-the-scenes tour of the music venue. Walking tours of these otherworldly caves entwine the unique history of Grundy County, the geology of cave science, and the mythology of cave lore. Tours include walking on The Caverns world-famous stage for a photo op.
For thrill seekers and adrenaline junkies, take an Adventure Cave Tour to explore deep portions of the Caverns few have ever seen before.
Want to bring large group for a cave tour or would you like to learn more about our youth overnight adventures? Please reach out to cj@thecaverns.com.
We are closed on Easter Sunday, Thanksgiving, and Christmas Eve through New Year's Day (reopening January 2nd).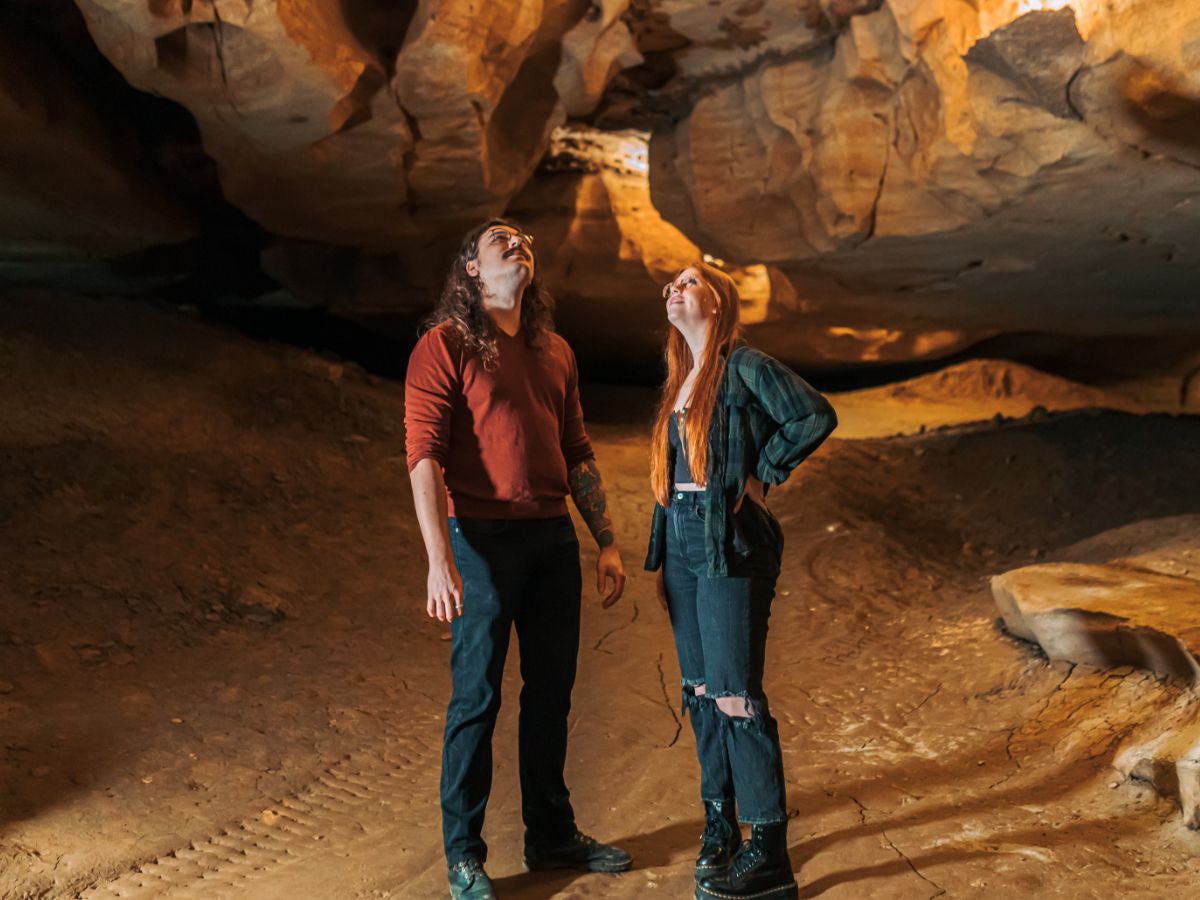 Guided Cave Tour
45 min - 1 hour • Moderate difficulty • All ages
From 9a to 5p CT, guided cave tours delve into two caves of The Caverns. You'll explore an otherworldly cave, known as Big Room Cave, stretching three football fields in length. Behold awe-inspiring subterranean formations and hear of the history of Grundy County from our fun and knowledgable guides. You'll also journey into The Caverns' legendary underground music hall for a photo op on the world famous stage. And should you seek an extra dash of daring, during the tour, playful passages await for children and grown-ups alike that you can crawl through.
Tour difficulty is moderate because there are a couple steep hills

Not handicap accessible

Age 2 and under are free

$22.95 adults / $12.95 ages 3 to 12 — plus tax & fees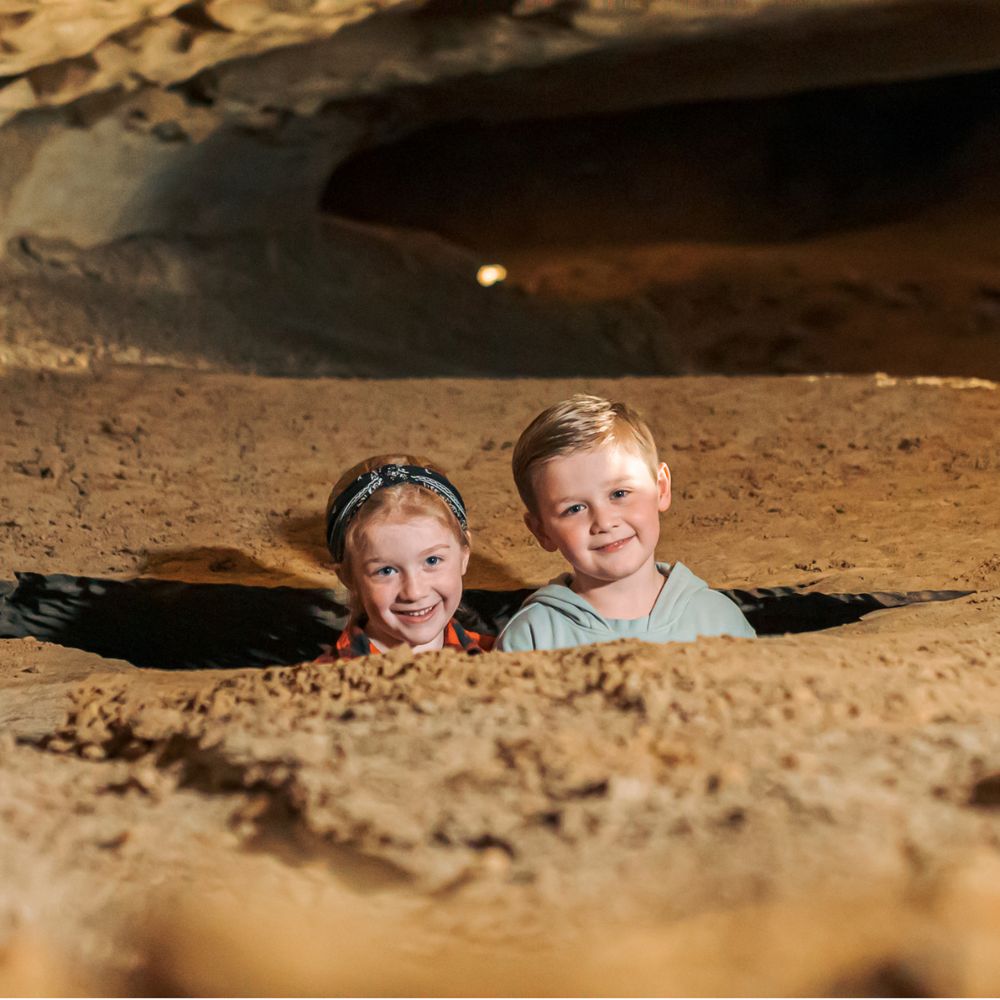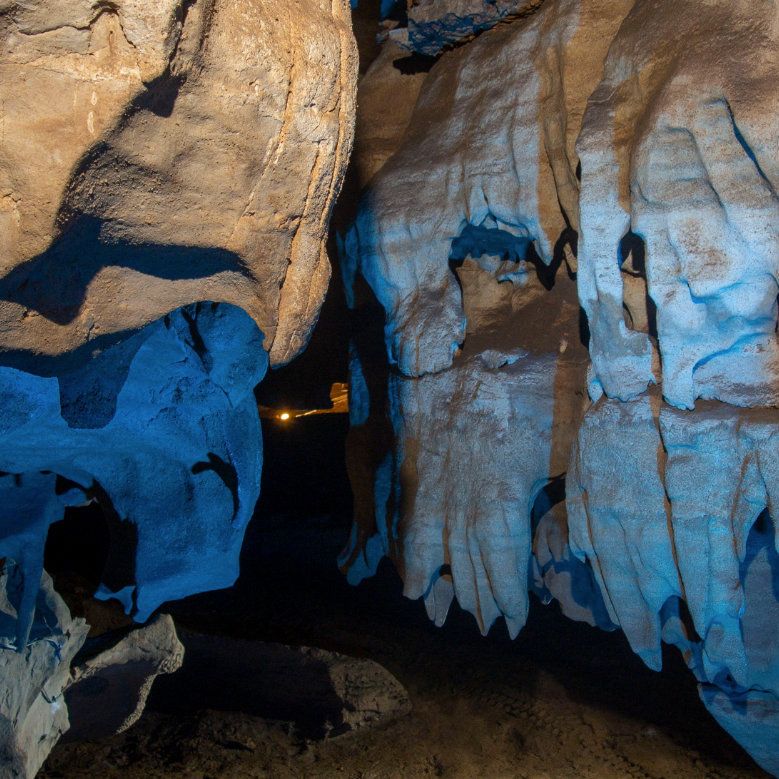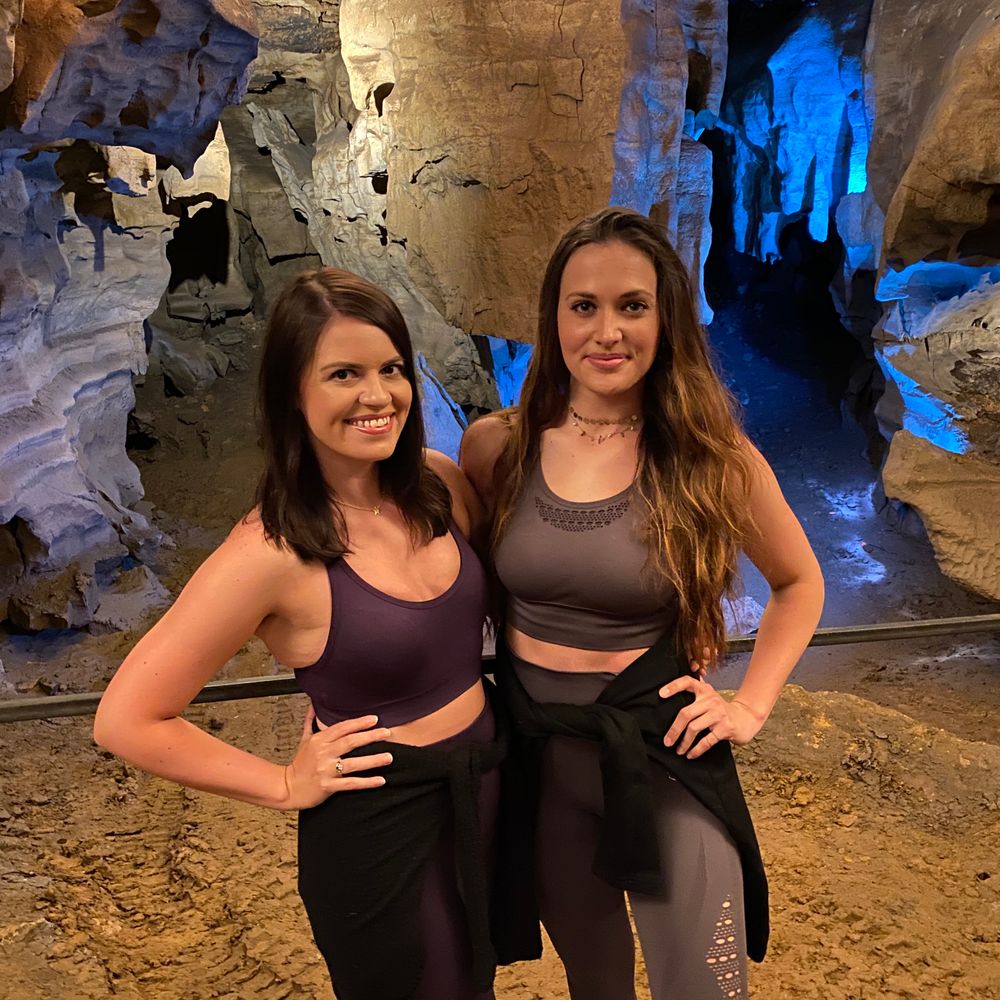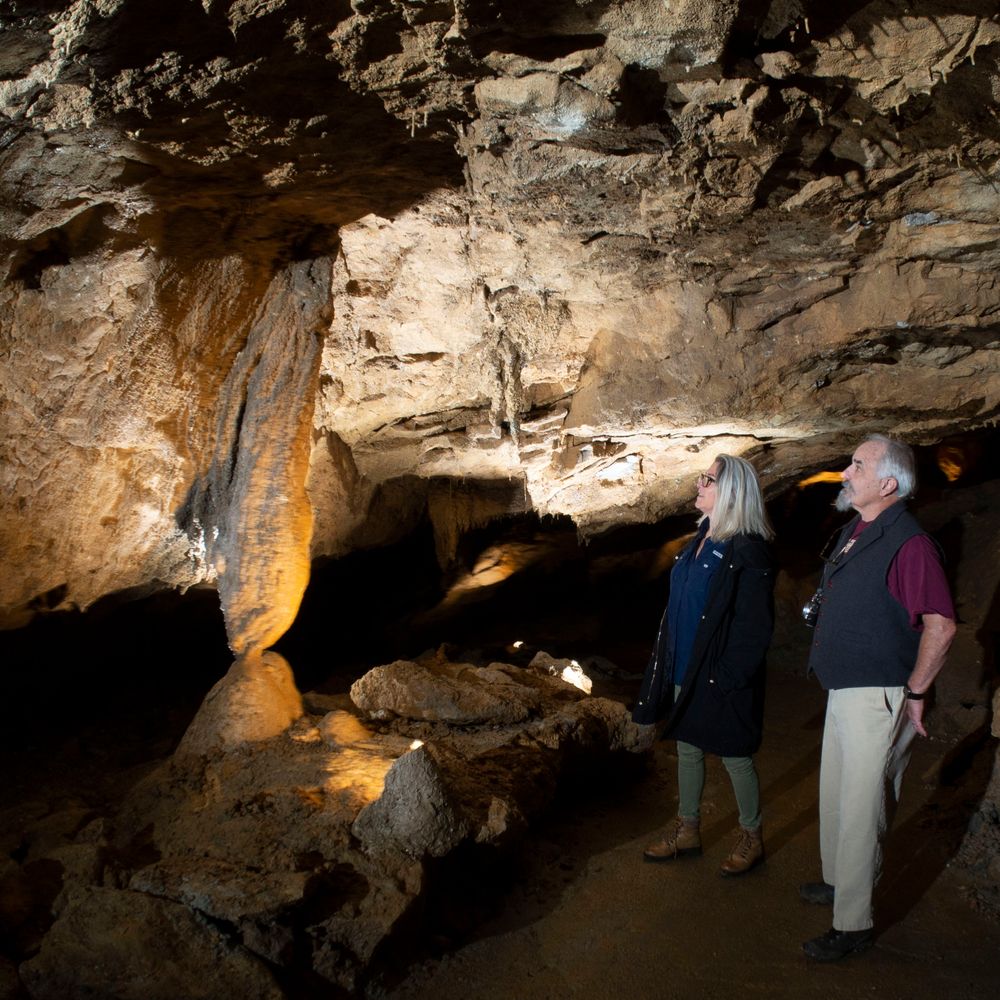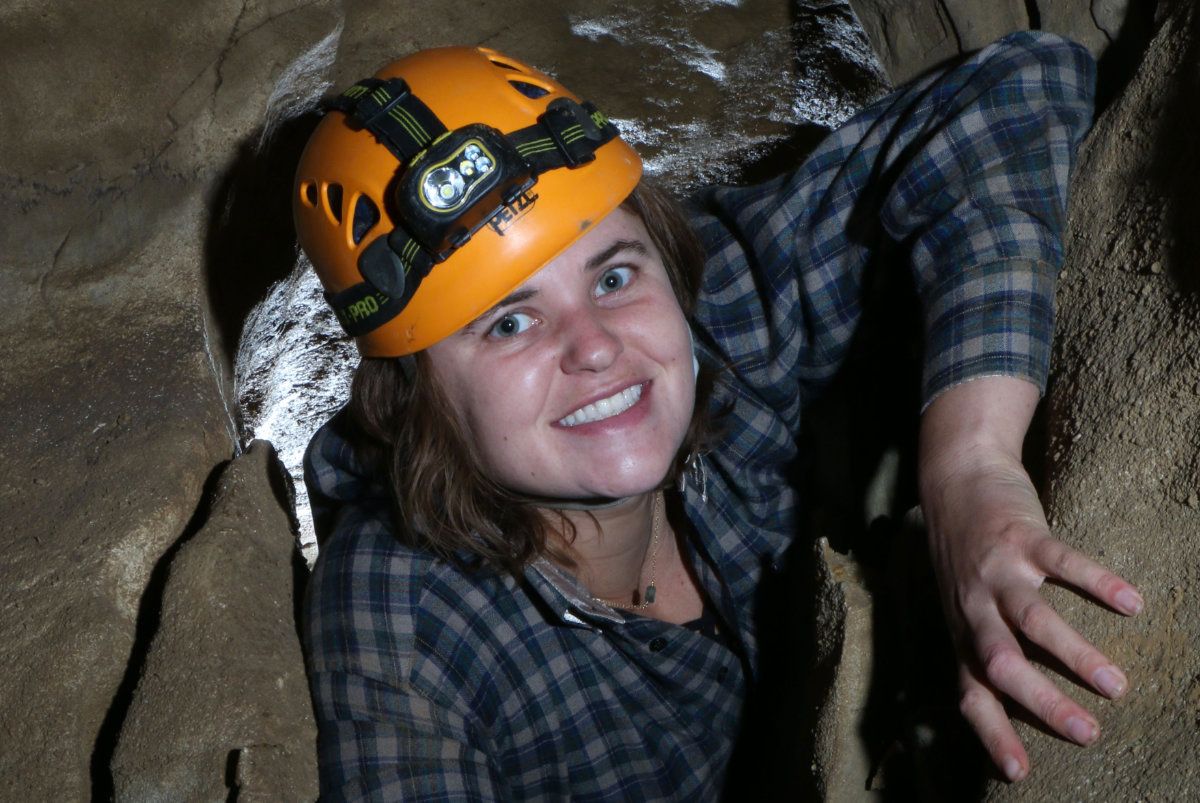 Adventure Cave Tours
3 - 4 hours • Extreme difficulty • Ages 16 & up
Get deeper when you visit The Caverns! Explore passages where few have gone before, including the challenging "Tombstone Pass." Our Adventure Cave Tours are guided by seasoned cavers. Get ready for a subterranean adventure that is both physically and mentally strenuous, but immensely rewarding! And when you make it back to the surface, you'll receive an exclusive T-shirt to commemorate your successful journey deep into The Caverns.
Not handicap accessible
We provide caving helmets, head lamps, and knee pads (our gear must be used)
You will get muddy, so please dress appropriately
Reservations required 7 days in advance
$130 — plus tax & fees (T-shirt included)
Please note, if you are the first person to book a tour spot, there is a minimum of two people per booking. All participants must sign a waiver onsite prior to the tour and all participants must present a valid ID when signing the waiver.
Curious but not ready to commit? Send an email to info@thecaverns.com with your phone number and one of our adventure caving experts will give you a call to tell you more and answer your questions.