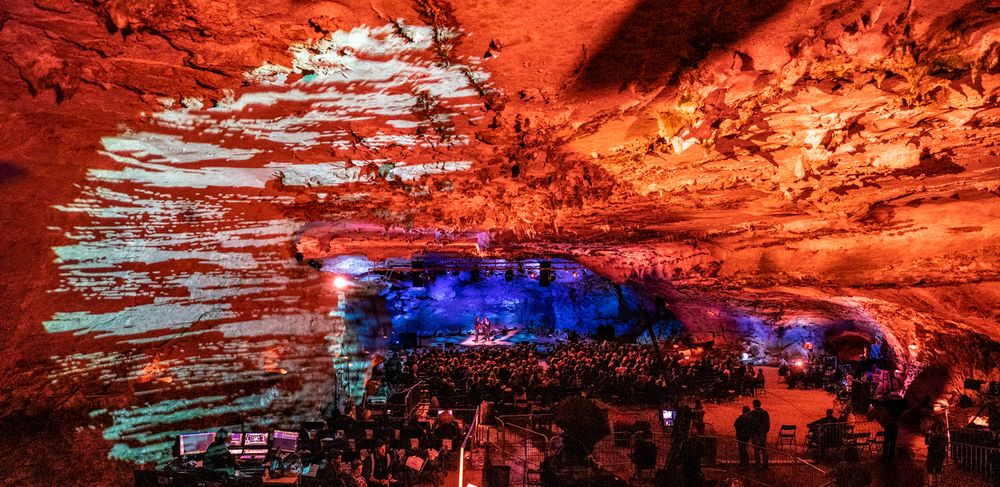 Photo by Michael Weintrob
The Caverns Wins Garden & Gun Magazine's Southern Music Venue Bracket
Among 32 Venerable Live Music Destinations, An Underdog Underground Concert Hall Takes The Title of Favorite Southern Music Venue
After three weeks of heated voting competition, The Caverns and its underground concert hall, have won Garden & Gun magazine's 11th annual bracket: Favorite Southern Music Venues.
In this March Madness-style voting competition, The Caverns was among a field of 32 road trip worthy live music destinations around the region including Ryman Auditorium in Nashville, TN, Tipitina's and Preservation Hall in New Orleans, LA, and 9:30 Club in Washington, D.C. In the championship, The Caverns ultimately eked out a win against The Orange Peel in Asheville, NC to claim the top honor.
In a story for Garden & Gun about the venue's win, The Caverns owner Todd Mayo remarked, "From us to Tipitina's to the Ryman to Preservation Hall, all music venues are destinations. Every one of the places in this bracket is a place to visit. And we are so happy to have a light shining on all the great music venues of the South."
With its concert season in full swing, The Caverns is hopeful the recognition from Garden & Gun will inspire even more road trips to Grundy County, TN. And with the addition of a new campground, concertgoers can now sleep out under the stars after the last encore. The camping option presents travelers with an alternative to The Caverns popular Stay & Cave Packages which include nearby lodging, transportation to and from the venue, commemorative merchandise, and more.
Also new for 2022, The Caverns trailblazing outdoor amphitheater, which hosted socially distanced shows with pod seating during the height of the pandemic, has been reconfigured to host full-capacity crowds of 5,500. Artists coming to The Caverns Amphitheater this year include Old Crow Medicine Show, Fleet Foxes, George Clinton & Parliament Funkadelic, Umphrey's McGee, The Disco Biscuits, Vanilla Ice and many more.
From concerts above and below ground to daily walking cave tours and intense 3-hour caving expeditions with seasoned guides, guests can start planning their Tennessee adventure at TheCaverns.com.