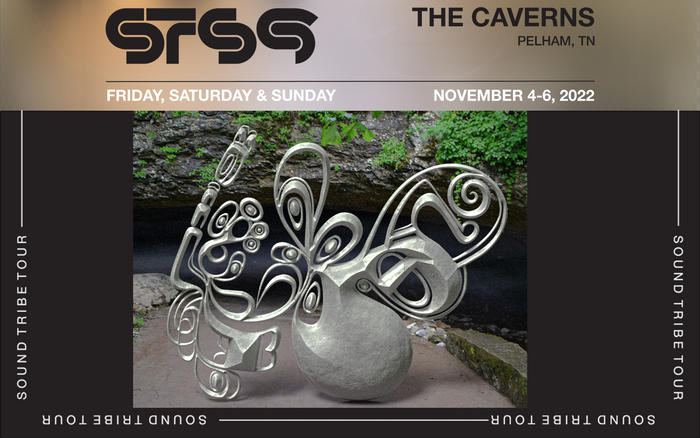 STS9 in The Caverns
STS9 returns to The Caverns underground concert hall for three nights: Friday, November 4th, Saturday, November 5th and Sunday, November 6th. Standing room only shows.
Artist Pre-Sale begins: Wednesday, August 17th at 9a CT
Venue Pre-Sale begins: Thursday, August 18th at 9a CT
General On Sale begins: Friday, August 19th at 9a CT
In addition to our popular Stay & Cave packages with lodging, transportation, cool merchandise and more, you can also plan to spend the night in The Caverns campground, which is on-site in a grassy field near venue! Simply add a Car Camping Pass to your order. For frequently asked questions about camping at The Caverns, visit this page.
See you underground in Grundy County, TN!

STS9
With an ethos rooted in exploration, STS9 has been a sonic pioneer for two decades. Using electronic and acoustic means, the instrumental five-piece—comprised of Hunter Brown (guitar/ keys), Jeffree Lerner (percussion), David Phipps (keyboards), Zach Velmer (drums), and Alana Rocklin (bass)—channels the primordial and celestial, producing a cutting-edge sound that has forged a path for multiple generations of electronic dance music.
STS9's innate sense of innovation is grounded by the group's desire to forge universal connections. Seamlessly integrating their exploratory and improvisation-based music with a fully immersive light show, each performance is a transcendent celebration of humanity. The group continues to find ways to build community, consistently spearheading charitable efforts and founding its own independent record label, 1320 Records.
Having released twelve albums in the last twenty years, STS9's legacy unfolds into the future. The group has been honored with induction into the Colorado Music Hall of Fame and earns headlining slots at countless music festivals across the country. With the help of the group's dedicated fanbase, STS9 has performed countless shows nationwide and consistently sells out legendary venues, such as The Caverns in 2019 which was the last time the band played the subterranean venue.
Check Out This Recap Video From STS9 in The Caverns, 2019