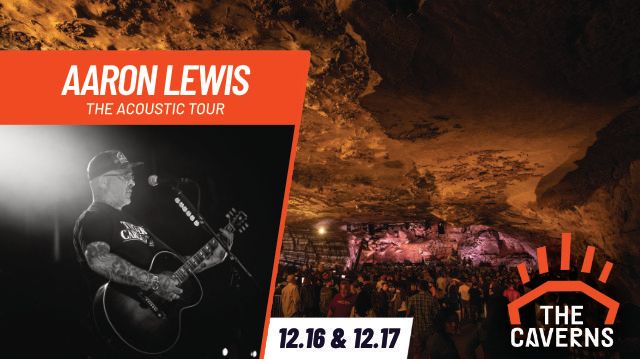 Aaron Lewis in The Caverns
Aaron Lewis's Frayed At Both Ends, The Acoustic Tour returns to The Caverns underground concert hall for two nights: Friday, December 16th and Saturday, December 17th. Standing room only show.
Artist Pre-Sale begins: Wednesday, June 22nd at 10a CT
Venue Pre-Sale begins: Thursday, June 23rd at 10a CT
General On Sale begins: Friday, June 24th at 10a CT
In addition to our popular Stay & Cave packages with lodging, transportation, cool merchandise and more, we're happy to offer passes for primitive car camping on-site in a grassy field near The Caverns! For frequently asked questions about camping at The Caverns, visit this page.
See you underground in Grundy County, TN!
Get 2-Night Tickets Get 12/16 Tickets Get 12/17 Tickets
AARON LEWIS
Aaron Lewis grew up in Springfield, Vermont, listening to his grandparents' country 8-tracks.Those roots inspired the multi-platinum Staind founder to return to his origins for the #1 Billboard Country Album debut Town Line and Sinner, as well as Billboard's #1 Hot Country Song debut "Am I The Only One," only the 9th time since 1958.
Having recorded with George Jones, Willie Nelson, Charlie Daniels, Alison Krauss and Vince Gill, Lewis has put a traditionalist brand on his outlier country. Frayed At Both Ends offers the hard touring/15-million selling workingman's country star at his most personal and unplugged–making for an intimate record that reflects his Frayed At Both Ends, The Acoustic Tour show.