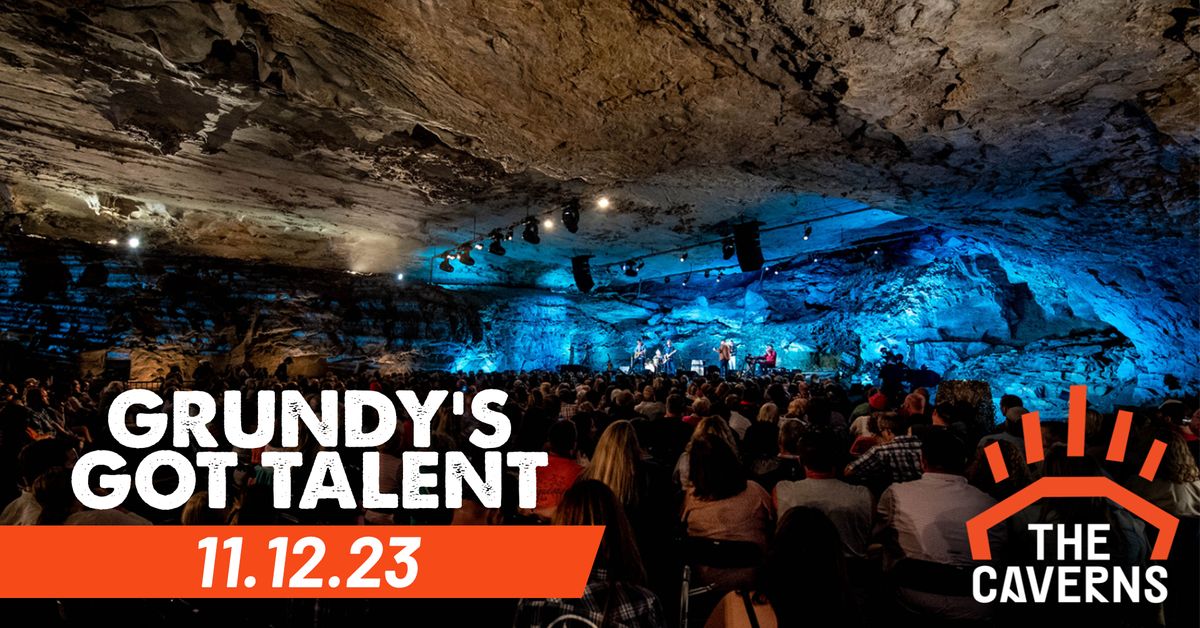 The Caverns
2:00pm
Doors 1pm • FREE Live Underground Event • Entries Open Until Sept 15th
The Caverns' Grundy's Got Talent Competition Returns in 2023
Open to Performing Artists & Bands With A Grundy County Connection
Grand Prize Includes A Paid Slot on A Festival at The Caverns, $700 in Gift Certificates from Local Businesses & More
From Grammy winners to today's most buzzed about live acts, The Caverns hosts a wide variety of artists spanning all genres of music. In 2022, the readers of Garden & Gun bestowed The Caverns with the title of "Favorite Southern Music Venue." With its eclectic concert calendar and breathtaking natural beauty, The Caverns attracts fans from all over the country to rural Grundy County, Tennessee. Many more tune in to The Caverns Sessions on PBS to see underground performances from the venue's hallowed, subterranean stage.
That very same stage will showcase local artists and bands when The Caverns brings back its talent competition, Grundy's Got Talent, on Sunday, November 12th at 2p CT (doors at 1p CT). The Caverns believes in the power of music to bring people together, and this competition aims to nurture connections within the Grundy County community while encouraging local musicianship and shining a light on homegrown talent.
Six finalists will perform 3-songs in front of a panel of music industry judges. The winning act selected by the judges will receive a paid slot on a festival at The Caverns, plus $700 in gift certificates from local businesses, and more. An Audience Choice Award determined by audience engagement will also be granted.
The community is invited to attend the free event to cheer on their favorite performers while helping local charities by bringing a toy for the Pelham Valley Fire Department's Toy Drive or canned goods for the Grundy County Food Bank to The Caverns. SVEC President/CEO Mike Partin returns as the host of Grundy's Got Talent and Seth Layne, who won the talent competition in its first year, will kick off the evening with an opening performance.
How To Enter
From now until September 15th, interested local artists and bands should complete this entry form. To be eligible for the competition, performers must be from Grundy County, or have at least one member of their group from Grundy County. No exceptions. Six finalists will be notified on October 13th that they've been selected to perform live on November 12th.
The Prizes
Grand Prize
A paid performing spot at a festival produced by The Caverns in 2024

Feature performance at the next Grundy's Got Talent

An allotment of up to six (6) VIP tickets to shows in 2024 of the winner's choice

Appearance on GCTV's Morning On The Mountain with Iva & Friends

Winner profile in the Grundy County Herald

Gift certificates from Bigfoot Adventure ($200), High Point Restaurant ($100), Mountain Goat Market ($100), Rosie's Farmhouse Kitchen ($100), Hank's Corner Grill ($100), The Smoke House Patio Grill ($100)
Audience Choice Award
Merchandise package for each member of the winning band, including t-shirts and hats from The Caverns for band members (up to 6).
The Judges
The Caverns has assembled a panel of judges from the music industry including:
Harry Woosley - Talent agent for Madison House in Nashville, TN. His agency represents artists such as Men At Work, Perpetual Groove, The Dead South, The String Cheese Incident, and many more.
Stephanie Taylor - Honored as one of Billboard's Top Music Lawyers in 2021, Stephanie Taylor is an entertainment and music industry attorney for the law firm Taylor Guttmann in Nashville, TN.
Todd Mayo - The Caverns owner and television producer for multiple PBS music specials and series, including the 2nd longest-running music series on American television, The Caverns Sessions.
The Event
Grundy's Got Talent at The Caverns
November 12th at 2p CT (doors 1p CT)
Tickets: Register for a free ticket. Event capacity is limited, but admission is guaranteed with ticket registration.
Bring a new, unwrapped toy for the Pelham Valley Fire Dept's Toy Drive or canned goods for the Grundy County Food Bank
Grundy's Got Talent at The Caverns is supported by GCTV, Grundy County Herald, Bigfoot Adventure, High Point Restaurant, Mountain Goat Market, Rosie's Farmhouse Restaurant, Hank's Corner Grill, and The Smoke House Patio Grill.