JOB OPENING: GROUP SALES, PRIVATE EVENT AND TOURISM MANAGER
Department: Marketing and Communications
Job Title: Group Sales, Private Event and Tourism Manager
Status: Full Time/Non-overtime eligible (Exempt)
Work Schedule: Generally comprises ten eight hour days in a two week period. Some evening hours or weekend days may be required in addition to special event coverage in order to meet job requirements.
Travel: Travel will be necessary to The Caverns for group events and between Nashville and Chattanooga.
Job Summary:
The Group Sales, Private Event and Tourism Manager is the primary staff person responsible for actively prospecting for, soliciting, securing, and planning of group visits to The Caverns for private events, tour groups, group sales for concerts and cave tours and coordinating the daily operations of the group sales program. She/He performs a range of duties including generating and following up on leads, selling group visits and private events, processing and coordinating all requests for groups, handling all group customer inquiries, producing status reports, and generating sales data. The core focus of this position is the development of sustained group attendance that meets established annual revenue and visitation goals. Additional duties include working with and cultivating relationships with Tennessee Tourism, Southeast TN Tourism, Nashville and Chattanooga CVB's and concierge organization to build the organization's presence in the tourism industry, toward the goal of increasing attendance. The position also includes assisting the Director of Marketing and Communications and the marketing team and working cross-departmentally to coordinate special events as needed.
This position would also include the preparation of quotes & budgets for private events in conjunction with Accounting Manager and generation of marketing/promotional materials to generate private event & group sales in conjunction with the Marketing Manager. This position will be responsible for the execution of the plans and budgeting for all groups & private events including staffing, subcontract management & client coordination
Key Job Elements
Identify and pursue strategic opportunities for capturing volume admission sales from targeted constituencies.
Solicit and monitor leads for Group Sales based on revenue and attendance goals.
Meet or exceed goals for new and returning group sales contracts.
In consultation with the GM, Director of Marketing and owner, formulate and implement proactive Group Sales marketing campaigns.
Maintain database and track Group Sales leads, inquiries, lost business, sales revenue, and provide ongoing status reports as required.
Develop and participate in targeted group outreach events and programs; make personal appearances to sell group tours to The Caverns.
Coordinate and process all phases of group contracts; book orders, secure deposits and payments for private events, group ticket sales, group tours, and VIP tour reservation.
Establish and maintain relationships with travel, tourism, convention and meeting partners with a strong focus on Tour Wholesalers and Tour Operators.
Achieve established group attendance targets as assigned including day of week distribution and revenue.
Attend travel industry tradeshows and hospitality networking events to promote The Caverns and develop strong positioning of group visit offerings.
Report on customer relationships, sales forecasts, and new prospects.
Participate in related sales activities, sales missions and tradeshows to achieve the sales targets.
Manage various sales and marketing partnerships
Manage assigned revenue and expense budgets for fiscal year within assigned department.
Coordinate with Visitor Services staff to schedule and confirm Group Sales reservations and tour requirements.
Assure availability of private guides for all groups requesting a guided tour.
Arrange VIP tours with approved staff and designated guides as requested.
Working with GM and Director of Marketing and Communications provide direction for all Group Sales collateral production.
Follow up with group sales customers to determine satisfaction.
Plan and execute all staffing for group sales & private events.
Manage all aspects of the subcontractor relationship as needed for private events and group sales.
Attend staffing meetings (at a minimum on a weekly basis).
Perform other duties as requested.
Work cross-departmentally to book and coordinate occasional special events as needed.
Organizational Relationships
Reports to GM.
Supervises assigned volunteers, staff and outside vendors.
Interacts with various levels of Staff, Visitors, Members and Volunteers.
Requirements
Knowledge
Bachelor's Degree in a related discipline. Marketing, communications, arts administration, or museum studies preferred.
3+ years of group sales experience preferably in the tourism and/or music industry.
Skills
Demonstrated success in the development, management, and execution of group sales campaigns.
Solid writing and speaking ability and strong interpersonal skills.
Excellent verbal communications with an emphasis on persuasion and generating action.
Demonstrated time management skills and detail-orientation.
Analytical and report writing skills.
Ability to work independently while retaining open and fluid communication to the full Caverns team.
Access and employ job related computer software (i.e. Microsoft Office, Visitor Management, CRM) at an effective proficiency level.
Experience using online software such as Google Docs & Dropbox for interoffice communication.
Accuracy, timeliness and strong organizational skills essential.
Abilities
Works independently with limited supervision.
Adept at correspondence and other required materials in support of development activities.
Well organized with a strong detail orientation and penchant for action.
Customer service orientation and mindset.
Work Environment:
The work environment characteristics described here are representative of those an employee encounters while performing the essential functions of the job. Reasonable accommodations may be made to enable qualified individuals with disabilities to perform the essential functions. The term "qualified individual with a disability" means an individual who with or without reasonable accommodation can perform the essential functions of the position. While performing the duties of this job, the employee is regularly required to communicate professionally in person, over the telephone, through email and other electronic means, move about their work area, between buildings and the campus grounds, handle various types of media and equipment, and visually or otherwise identify, observe and assess. The employee is occasionally required to lift up to 25 pounds.
Notice:
The preceding job description has been designed to indicate the general nature and essential duties and responsibilities of work performed by employees within this classification. It may not contain a comprehensive inventory of all duties, responsibilities, and qualifications required of employees to do this job.
To apply:
We are a progressive, equal opportunity employer and all candidates are encouraged to apply. You can do so by sending a cover letter noting your pay requirements and your resume to: employment@thecaverns.com.
Please note Group Sales in the subject line.
Due to the anticipated response, we apologize in advance that we will only be able to communicate with those individuals selected for further consideration. However, be assured that all submissions will be reviewed.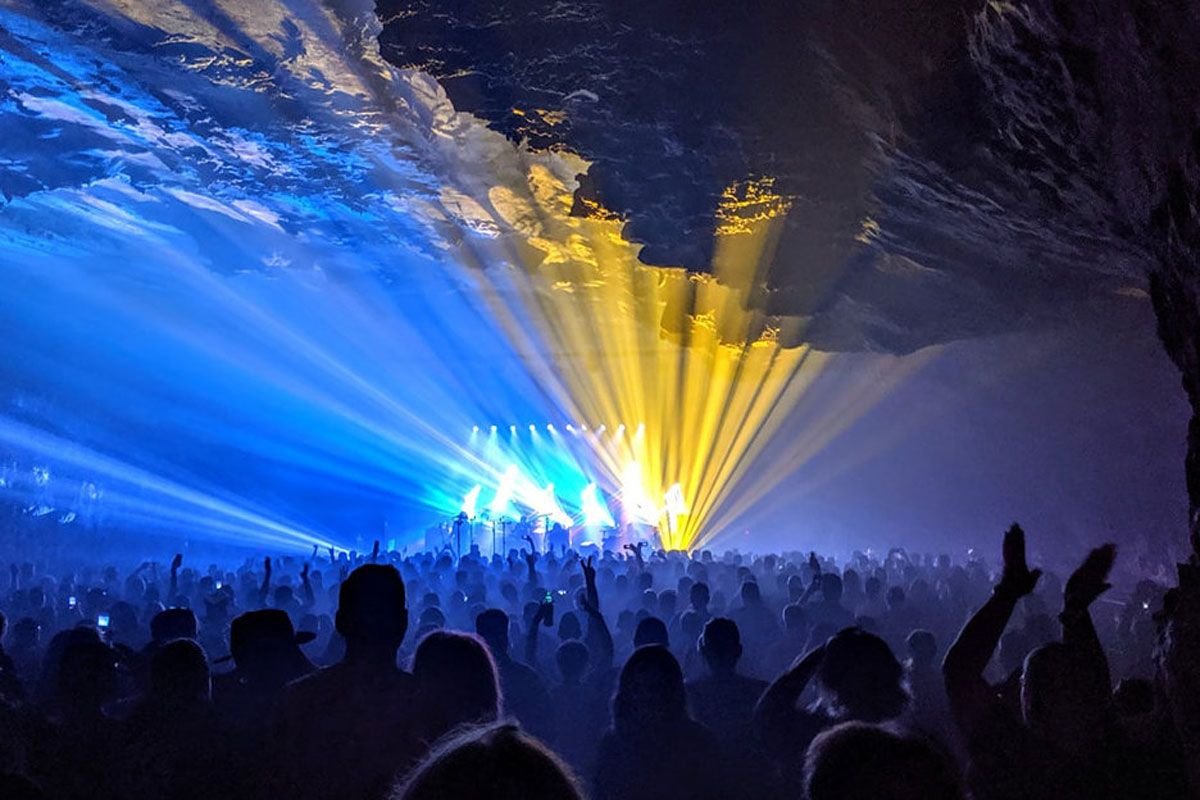 About The Caverns
In Grundy County, Tennessee, in a timeless valley near the base of the Cumberland Plateau, you'll find The Caverns—a jaw-dropping concert hall located deep underground. Guests revel in the prehistoric venue's natural acoustics and otherworldly beauty. What's more, The Caverns is home to the Emmy-winning, PBS television series Bluegrass Underground. With a concert calendar that spans all genres of musical expression, The Caverns draws music fans from all over the world. Live music inside a cave, it's a bucket list experience that keeps fans coming back to The Caverns time and again for "The Greatest Show Under Earth."