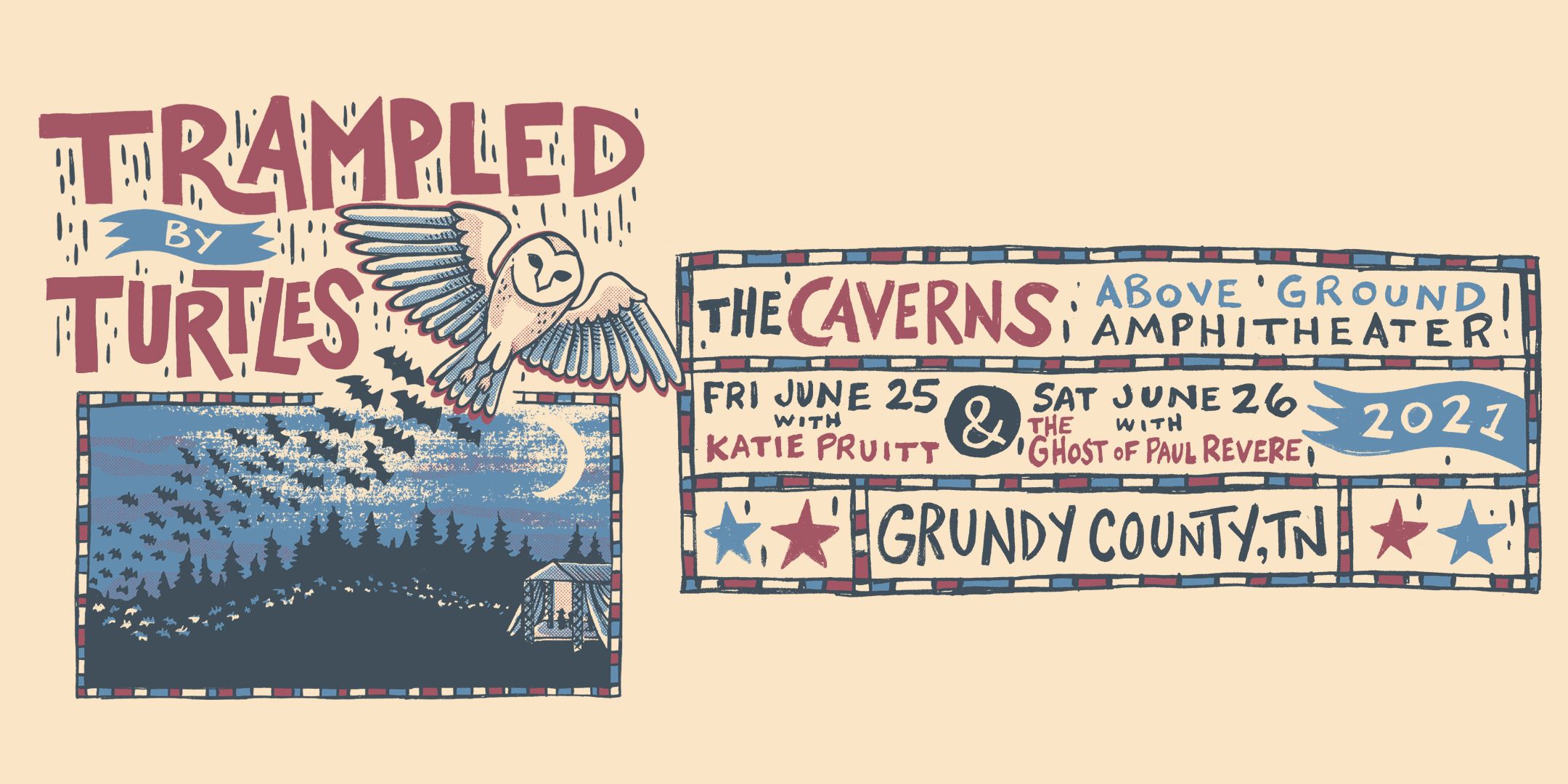 Trampled by Turtles at The Caverns Above Ground Amphitheater
Outdoors & Socially Distanced
The Caverns is proud to bring back live music in a responsible way with a new, socially distanced venue—The Caverns Above Ground Amphitheater. On Friday, June 25th and Saturday, June 26th, Lightning 100 presents Americana/folk rock band Trampled by Turtles.
Join us outdoors on a hillside overlooking the beautiful Payne's Cove for an epic weekend of music. We're offering a limited amount of 2-day pods with premium placement as well as single night pods. 2-day pod purchases receive guaranteed placement in front of single night pod purchases of the same size.
You're welcome to bring your own chairs for this show as seating will not be provided. For pods, all concessions and merchandise will be ordered through the sEATz app and delivered contactless to your pod eliminating lines and limiting the need to leave your pod. For general admission, you'll have access to a walk-up bar.
While the music plays on above ground, restrooms will be used inside The Caverns subterranean music venue to give guests an opportunity to duck below the surface to see the world famous underground music venue.
Let's get back to the music—tickets on sale now!
Let's Talk Lodging
Trampled by Turtles fans from all over will be descending on Southeast Tennessee for these concerts. Whether you're coming in for one concert or doubling down with two shows, chances are you're going to need a place to stay. Here's a few ideas for nearby lodging, as well as a popular campground with a shuttle service.
Jim Oliver's Smoke House Lodge - Located in nearby Monteagle, which is only a fifteen minute drive to The Caverns, stay on top of the mountain in a historic, authentic Tennessee lodge that offers home cooked meals in a beautiful setting. Nearby you'll find shopping, dining, and great hikes. Top rated hikes like Natural Bridge, Fiery Gizzard Trail, Stone Door and more are all nearby. Take a short drive down the road to the historic and beautiful University of The South (Sewanee) for golf plus more dining and shopping options.
Manchester Hotels - Comfort Inn & Suites and Holiday Inn Express & Suites are popular with our concert goers as modern hotel options. Located off Exit 114, these hotels are within 20 miles of The Caverns.
Other options - From tiny houses and cozy cabins to Airsteams and yurts, check out what's available near The Caverns from AirBnb. For camping, look into Bigfoot Adventure RV Park & Campground as well as South Cumberland State Park.
Need more ideas? Visit Tennessee's South Cumberland website for more places to stay and much, much more.
Venue Map