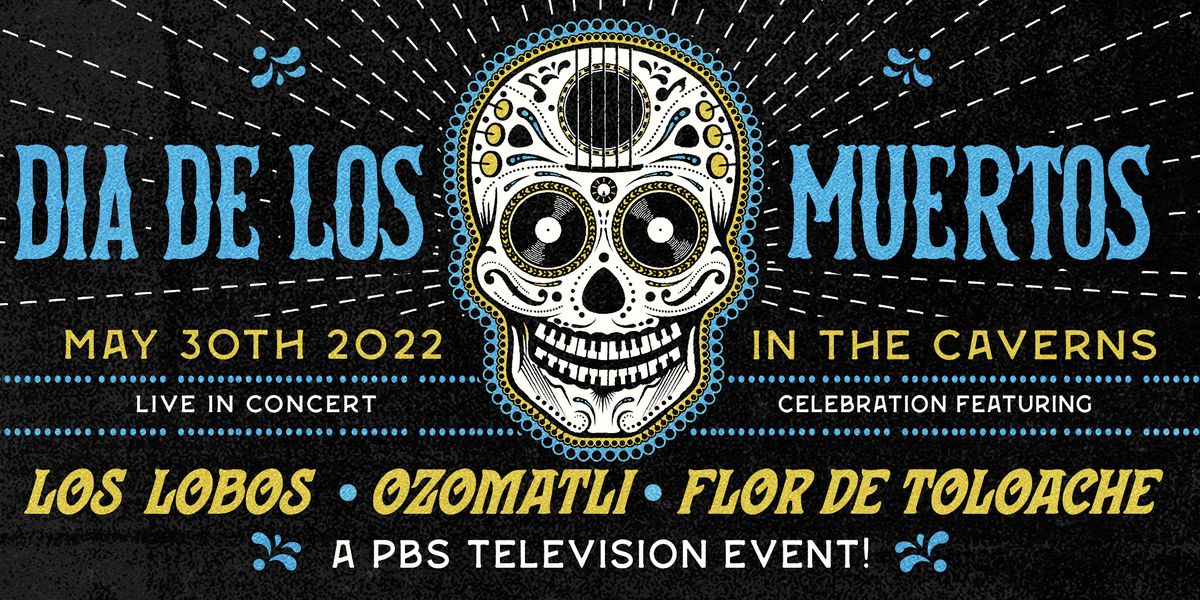 The Caverns
4:00pm
Underground Show • Seating Available • PBS TV Taping
US$35
Dia de Los Muertos Celebration in The Caverns w/Los Lobos & More
¡DIA DE LOS MUERTOS!
The celebration of Dia de los Muertos has become a globally recognized Mexican cultural symbol, a much-anticipated and grandly celebrated holiday in Latinx neighborhoods across the United States and by people of Mexican heritage nearly everywhere. Traditionally observed on the first two days of November, Dias de los Muertos sees families and friends of loved ones who have died pay respect with colorful, memorial gatherings often taking the air of a joyful celebration rather than of mourning for the departed. In honor of these two important days on the Latinx calendar, PBS will host a special concert on May 30 to be taped especially for PBS. This dedicated Day of the Dead event will take place deep within the unique and beautiful 'underworld' of The Caverns in Middle Tennessee.
Intermixed in the PBS program will be short video vignettes produced by San Francisco filmmaker Jennifer Maytorena Taylor on the meaning of Dia de los Muertos and the iconic images and crafts of the festival through scenes and interviews of Dia de los Muertos artisans. A truly exciting music-cultural celebration, ¡DIA DE LOS MUERTOS! is produced by Todd Jarrell (Bluegrass Underground, Nitty Gritty Dirt Band 50th Anniversary, Havana Time Machine, Songwriting With Soldiers).
Featuring
LOS LOBOS with their driving GRAMMY-winning amalgamation of rock and roll, Tex-Mex, country, zydeco, folk, R&B, blues, and traditional music such as cumbia, boleros and norteños.
OZOMATLI also from Los Angeles bringing the evening's energy up with their spectrum mash-up of salsa, jazz, funk, reggae and rap.
FLOR DE TOLOACHE, the Latin GRAMMY Award-winning, New York based, all-female group mixing old-style Mariachi with a contemporary flair.
Schedule
3p CT - Doors
4p CT - Concert
Tickets
$35 General Admission. Standing-room only.
Tickets on sale to the general public on Friday, April 29 at 11a CT
Seats will be available behind General Admission. Seats are first come first serve.
¡DIA DE LOS MUERTOS! will premiere nationally on PBS stations on October 28, 2022.