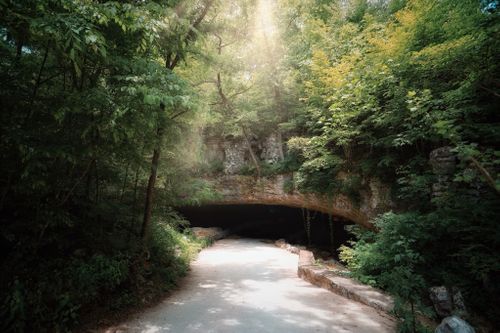 Job Opening: The Caverns Cave Tours General Manager
Posted: 10/5/2021
Located in Grundy County, Tennessee, The Caverns is a world-renowned destination known for live music in beautiful natural settings, the Emmy-winning PBS television series Bluegrass Underground, and a magical cave system for different skill levels of exploration. Inside The Caverns subterranean venue, guests to "The Greatest Show Under Earth" revel in the prehistoric venue's natural acoustics and otherworldly beauty. The outdoor amphitheater sits at the foot of the Cumberland Plateau with the rolling Tennessee hills as a backdrop. Whether underground or above ground, live music at The Caverns is a bucket list experience that keeps fans coming back time and again. Daily guided walking tours and adventure cave tours of The Caverns cave system are offered 7 days a week. www.thecaverns.com
The Caverns is looking for a General Manager for the cave tourism business located in Pelham, TN. This is a full-time position with a growing operation that often runs in close coordination with the concert production business co-located on the property. A successful candidate will be proactive, customer-centric, and have the bandwidth to manage a team of tour operators that are on-site seven days a week. The Caverns is looking for an individual interested in taking responsibility for the growth of the business and motivated by the possibility of evolving and expanding the position as the company grows.
Reporting to senior management, the General Manager is responsible for overseeing and managing all aspects of the adventure cave tourism business including but not limited to personnel management, safety, marketing, and development of new tours & tour programming.
Responsibilities include:
Hiring, training, scheduling and ongoing supervision of the staff related to the cave tourism business.

Prepare, update and execute employee policies and procedures.

Assist with developing budgets, tracking expenses, and maximizing profit for the cave tour operation.

Manage all aspects of The Caverns gift shop including ordering, inventory and P&L reporting.

Manage physical media marketing implementation, optimizing marketing spends to drive traffic to the attraction & increase business. Coordinate digital marketing with the Marketing Manager.

Assist in marketing and managing group sales & group activities related to cave tours onsite.

Ensuring a fantastic and safe guest experience by establishing and maintaining safety protocols and all supporting paperwork

Ability to and willingness to lead all tours as needed.

Reporting on tour and guest activity and providing analysis to assist in growing the business.

Provide direction and set priorities for the Property Manager for upkeep of the property & onsite facilities within budget.

Oversee management, monitoring and maintenance of onsite security needs including but not limited to ADT systems, onsite cameras and gates.

Oversee management of & maintenance of onsite facilities including power/lights, lighting, pump systems, landscaping, parking lots, trash removal etc…

Work with and manage online registration/ticketing system for tours

Coordinating with the concert guest relations staff to provide tours for concert-goers on show days.
Qualifications:
3+ years managing people with responsibility for hiring and training
5+ years running marketing campaigns for a customer-centric business. (i.e. Facebook/Instagram, GoogleAds etc...)
Experience with G-Suite/Excel and Quickbooks or eq. accounting software a plus.
A background in a customer-facing industry, where the customer's experience and satisfaction is paramount
Enthusiasm for outdoor recreation and the natural beauty of the region with the ability to convey that excitement to others.
Experience with caving or other adventure sports a plus.
To Apply:
We are an equal opportunity employer and all candidates are encouraged to apply. You can do so by sending a cover letter noting your pay requirements and your resume to: careers@thecaverns.com. Please note "Cave Tours General Manager" in the subject line.
Due to the anticipated volume of response, we apologize in advance that we will only be able to communicate with those individuals selected for further consideration. However, be assured that all submissions will be reviewed.