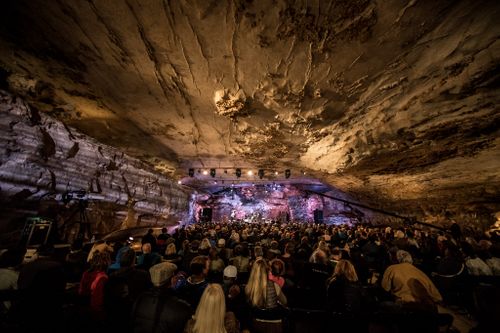 Job Opening: The Caverns Booking & Administrative Assistant
Posted: October 18, 2021
Located in Grundy County, Tennessee, The Caverns is a world-renowned destination known for live music in beautiful natural settings, the Emmy-winning PBS television series Bluegrass Underground, and a magical cave system for different skill levels of exploration. Inside The Caverns subterranean venue, guests to "The Greatest Show Under Earth" revel in the prehistoric venue's natural acoustics and otherworldly beauty. The outdoor amphitheater sits at the foot of the Cumberland Plateau with the rolling Tennessee hills as a backdrop. Whether underground or above ground, live music at The Caverns is a bucket list experience that keeps fans coming back time and again. Daily guided walking tours and adventure cave tours of The Caverns cave system are offered 7 days a week. www.thecaverns.com
About the position: The Caverns is looking for a full-time Booking & Administrative Assistant to work remotely and in person as an integral part of the executive team and under the supervision of the General Manager. The ideal candidate will be a team player, a problem solver, detail oriented, and possess a willingness to go above and beyond to help The Caverns achieve success. Passion for live music and the outdoors is required.
Duties & Responsibilities:
Track & organize outreach to agents & status of conversations.
Build and maintain spreadsheets tracking past & future offers. Keep shared records of offer status.
Draft & assist in the preparation, management and storage of artist offers.
Manage online offer preparation systems and build templates as needed.
Manage calendar holds & positions. Keep staff aware of show status.
Track status of offers & follow up as needed. Keep shared records of offer status.
Oversee financial status of shows and ticket sale status according to offers and keep management updated of status on a regular basis.
Review all contracts & riders for all performing artists along with venue legal representative and General Manager to verify they match terms in the offer.
Oversee & manage submission of deposits according to offers & contracts.
Review all ticket pages to verify they match terms in offers.
Oversee package pricing to verify they match offers.
Assist in the preparation of pre settlements with tour managers and venue accountant.
Assist in preparing settlements with agents/tour manager, venue manager and accountant.
Post all upcoming shows to Pollstar.
Report post show box office numbers to Pollstar.
Track historical show ticket sales and use data to prepare future offers.
Attend shows as needed to assist General Manager as needed.
Assist in booking artist hotels, coordinating artist credentials and other artist show related preparation tasks.
As necessary, attend events at The Caverns and meetings with staff.
All other duties as assigned.
Knowledge, Skills & Abilities:
1-2 years of experience in the talent buying/booking industry or related field preferred.
Experience with Google Sheets and/or Excel required.
Strong interpersonal skills as well as written and verbal communication skills.
Ability to work independently, set priorities and complete tasks on time.
Ability to work and be flexible in a faced paced deadline driven work environment.
Ability to time manage and work independently.
Willingness to work non traditional hours with flexibility - ability to work some nights, weekends and holidays as required.
Experience with ticketing software like Eventbrite is a plus.
To Apply:
We are an equal opportunity employer and all candidates are encouraged to apply. You can do so by sending a cover letter noting your pay requirements and your resume to careers@thecaverns.com. Please use Booking & Administrative Assistant for the subject line.
Due to the anticipated volume of response, we apologize in advance that we will only be able to communicate with those individuals selected for further consideration. However, be assured that all submissions will be reviewed.